Blog Home
A Fun, Quick & Healthy Snack!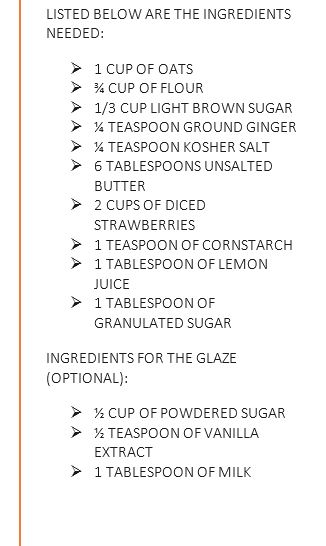 If you are feeling too guilty to cheat on your diet and your taste buds are craving a sweet treat, we have the perfect solution for you!
This tasty delightful treat has the whole package - it's healthy, fun to make and delicious. Whether you need a snack to go with your morning coffee or a sweet treat after dinner, these strawberry oatmeal bars will satisfy you.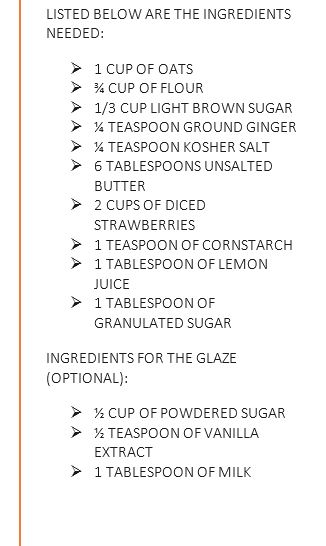 Directions:
Preheat oven to 375 degrees and place a piece of parchment paper into a 8x8 baking pan – Make sure the paper covers the outside of the pan for easier removal

Combine oats, flour, brown sugar, ginger & salt in a bowl. Pour the melted butter into the bowl and mix until it becomes clumpy. Set ½ of the mixture aside and press the remaining into the baking pan

Distribute the strawberries into two even piles. Take one pile and sprinkle them across the pan. You will then lightly cover the layers in cornstarch, lemon juice and ½ tablespoon of sugar

Sprinkle the remaining strawberries and oat mixture into the pan

Bake for 35-40 min or until golden

Let the bars cool – To speed this process up, you can place them in the fridge
Preparing the glaze:
Mix together the sugar, vanilla and milk in a bowl until it creates a liquid consistency

Pull the bars out of the baking pan and cut them into smaller pieces

Pour the glaze over the bars and ENJOY!